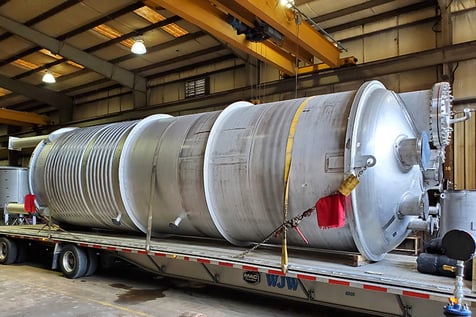 HEATING/COOLING MEDIA SPECIALIST
Pressure vessel manufacturer, Bendel Tank & Heat Exchanger, recently shipped an 11,000 gallon ASME SA240-304/304L stainless steel tire rubber blend reactor to client in Texas.
The reactor was 102″ OD x 312″ tall and equipped with a custom-designed half pipe cooling jacket, and internal heating coil, designed to deliver outstanding efficiency and performance - and is another example of Bendel's commitment to providing solid, proven, engineered and designed solutions, optimized for specific applications.
Pressure Vessel Jackets
For our chemical engineering customers, a jacketed vessel is a container that is designed for controlling the temperature of its contents by using a cooling or heating "jacket" around the vessel through which a cooling or heating fluid is circulated.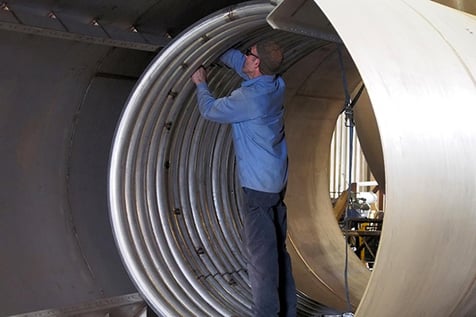 The "jacket" refers to an external cavity that permits the uniform exchange of heat between the fluid circulating in it and the walls of the vessel.
Superior Heat Transfer, Greater Efficiency - and Cost Savings!
Jacketing a process vessel provides excellent heat transfer in terms of efficiency, control and product quality. Half pipe jackets provide optimal strength and utilize light-gauge metal construction that saves on material expenses.
Good heat transfer rates, combined with the structural rigidity of the design, make half-pipe jackets a good choice for a wide range of applications.
Temperature Consistency in Manufacturing
Bendel is a specialist when it comes to heating and cooling media such as half pipe jackets. Maintaining temperatures in the manufacturing and storage process is goal number one! We provide our clients with four unique options for maintaining temperature-specific vessels:
Conventional Jackets
Dimpled Jackets
Half Pipe Jackets
Internal Coils
Learn about our jackets and coils options here.
"Over the past 50 years, Bendel has built a reputation for quality, reliability, market-leading pricing, and best-in-class workmanship," says Joe Schenberg, Market Director, Industrial & Chemical for Bendel, "We are proud to offer the industry's best heating and cooling media design and fabrication." ​
To learn more about Bendel's tanks, vessels and equipment - and all our available options for maintaining temperature throughout your manufacturing processes - contact Joe Schenberg at (405) 205-4079.
Or, if you are located in Texas, Louisiana, Oklahoma, or Arkansas, please contact John Jurisich in our Gulf Coast office at (832) 981-8020.
You can also contact us via the web here