MIXING & BLENDING TANKS FABRICATION
CUSTOM MIXING/BLENDING & BATCH TANKS FABRICATION

Bendel is an industry leader in the custom design and fabrication of Stainless steel mixing, blending and batch tanks. Built to your exact specifications, all our mixing and batch tanks are fabricated to the highest industry standards to safely and reliably support all your mixing and blending needs.



Used for combining a wide variety of liquid and solid product components, our mixing and batch tanks deliver high quality, precise blending and can be found throughout production lines across a broad range of industries including pharmaceutical and chemical manufacturing, food and beverage, and more.

Bendel's fabrication capabilities support your choice of agitation systems including axial or radial turbine, scrape, sweep, counter-rotating, magnetic and dual motion systems in addition to a wide array of options and features to suit your needs including:
ASME code and non-code options
Vessels from 2' to 14' diameter
Variable speed options
Choice of open or closed top
Choice of top or bottom entry
Insulation
Vacuum seal
Choice of atmospheric or pressurized designs
Portable and stationary vessels
Variety of interior/exterior finishes
Baffled or offset mixers
Food & pharmaceutical-grade sanitary / electro polish finishes
Vessels can be jacketed for cooling or heating:
Conventional / single wall
Dimple jacket
Half-pipe jacket
OPTIONS & FEATURES
Tank supports
Piers & saddles
Legs supports
Lift lugs
Tank skirts
Custom Manways
Sight glasses
Lights
Specialized inlets & outlets
Downtubes
Thermowells
Outlet valves
Metallurgy
Stainless Steel
Carbon Steel
Hastelloy & Other Nickel alloys
Certifications
ASME U certification
National Board R certification
Bendel is here to serve you and provide the highest quality custom built mixing and blending tanks to meet your application's requirements. We welcome the opportunity to provide you a quote.
CONTACT US
Call us today at: 866-596-5112 to learn more about our custom engineering and fabrication services and talk about your upcoming project - or request a quote below.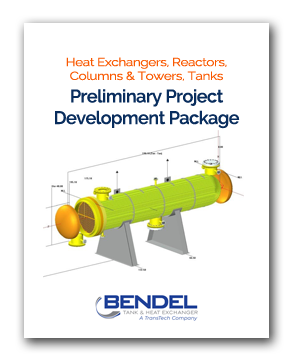 FREE: Preliminary Project Development Package
Receive a complete Bendel project proposal, including:
Complete sample project budget
Complimentary concept evaluation
Lead time evaluation
Cost analysis
More...
Download Now