CUSTOM Heat Exchanger Fabrication
CUSTOM FABRICATED HEAT EXCHANGERS - TO YOUR SPECIFICATIONS
Bendel specializes in the custom design and fabrication of Shell & Tube Heat Exchangers, serving customers across a broad range of industries including chemical, pharmaceutical, biotech, personal care, food processing, dairy, refining and more. We have the capabilities and expertise to size, design and fabricate your heat exchanger to the highest standards.
Utilizing advanced HTRI thermal design and Compress software and backed by decades of experience and design expertise, our seasoned team of mechanical and thermal design engineers will work with you to determine the optimal custom solution to meet your specific process requirements.
SAFE, RELIABLE SOLUTIONS
We understand how important reliability is to maintaining your operations and the need for safe, effective solutions that allow for easy inspection, cleaning and maintenance to ensure safe, reliable operations—and long equipment life.
That's why all our heat exchangers are designed, inspected and rigorously tested at our facilities to meet stringent pressure, temperature and mechanical design standards including:
ASME BPVC – Section VIII, Div 1

ASME BPE (bioprocessing equipment) for pharmaceutical applications

ASME 3A for sanitary dairy, food and personal care applications

FDA
PURPOSE-BUILT
Our experienced engineering and fabrication teams have the knowledge and experience to deliver a broad range of world-class solutions including:
Beer Columns

Chillers / Coolers

Condensers

Crystalizers

Dryers

Evaporators

Fuel Heaters

Heat sink

Heaters

Intercoolers

Preheaters

Re-boilers

Refrigeration

Rising Film Evaporators

Steam generators

Super Heaters

Vacuum Condensers

Vaporizers
CAPABILITIES
Our Shell & Tube Heat Exchangers can be fabricated from Carbon Steel, Stainless Steel, Nickel Alloy and Duplex
We manufacture a variety of heat exchanger types with options and characteristics to suit virtually any purpose including:
Single Pass, Multi Pass

Single & Double Tubesheet

Parallel-Flow, Counter-Flow

With & Without Phase Change

Floating & Fixed Head Options

Regenerative & Nonregenerative Configurations

Expansion Joints

Standalone Units, Parallel Units

Lined & Unlined Flanges

Standard Grade, Sanitary/Food Grade & Pharmaceutical

G

rade Options

High Purity S

urface Finishes

Insulation Jackets
STATE-OF-THE-ART CNC
When they entrust a heat exchanger project to us, our clients demand perfection—and we rely on our state-of-the-art Quickmill milling and drilling machine to deliver. Designed to provide outstanding, close tolerance machining of tubesheets used in the manufacture of our custom Shell & Tubesheet Heat Exchangers, our Quickmill Intimidator improves the quality and performance of every heat exchanger we build.
Quickmill Intimidator 96: Superior solution for large part machining and drilling accuracy that provides a powerful, precise tool that performs flawlessly time after time. Bed size of 96" x 185-1/2"
EXPANSION TANKS
Bendel also offers a full array of custom ASME stainless steel expansion tanks to accommodate expanding fluids and reduce pressure in closed loop heating systems.
CONTACT US
Bendel is here to serve you and provide the highest quality custom built Shell & Tube Heat Exchangers to meet your application's requirements. We welcome the opportunity to provide you a quote.
Call us today at: 866-596-5112 to learn more about our custom engineering and fabrication services and talk about your upcoming distillation columns or towers project - or request a quote below.
HEAT EXCHANGER METALLURGY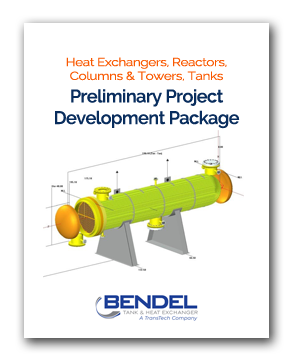 FREE: Preliminary Project Development Package
Receive a complete Bendel project proposal, including:
Complete sample project budget
Complimentary concept evaluation
Lead time evaluation
Cost analysis
More...
Download Now
PARTIAL LIST OF HEAT EXCHANGER TYPES/CAPABILITIES
Fixed Tubesheet Heat Exchanger

U Tube Heat Exchanger

Removable Tube Heat Exchanger

Floating Head Heat Exchanger

Kettle Reboiler Heat Exchanger

BEM type Heat Exchanger

AEL type Heat Exchanger

AEM type Heat Exchanger

NEN type Heat Exchanger
BXM type Heat Exchanger
AFM type Heat Exchanger
BFM type Heat Exchanger
BEU type Heat Exchanger
BKU type Heat Exchanger
AES type Heat Exchanger
AEP type Heat Exchanger
AET type Heat Exchanger
AEW type Heat Exchanger
AKT type Heat Exchanger
CFU type Heat Exchanger
Shell & Tube Heat Ecxhanger
Oil to Oil Economizer
Steam Trim Heater
Trim Cooler
Condenser
Evaporator
Reboiler