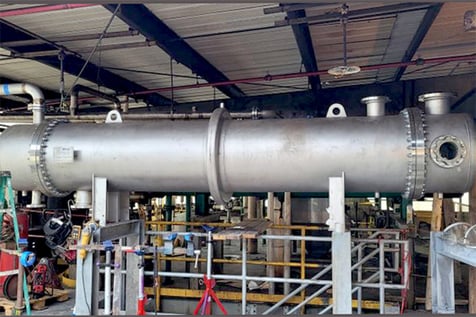 HEATING/COOLING MEDIA SPECIALIST

Bendel Tank & Heat Exchanger does it again! We recently shipped our 250th specialized, custom engineered and fabricated heat exchanger:

The BEM Vertical Single Pass Shell and Tube Heat Exchanger Condenser shown here has the following dimensions:
28-1/2″ Dia. x 144″ tube length
1″ Dia. Tubes
Shell, heads, baffles, tube sheets, tubes all constructed of 316/316L Stainless.
Customer: Performance chemical manufacture in southeast Texas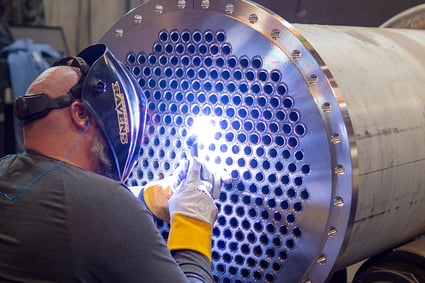 Many smiles and congratulations were shared before the finished code vessel was shipped to its new home. "We are extremely proud each and every time we ship a vessel to a customer," said John Jurisich, Business Development Manager, Gulf Coast Region, "As a leading pressure vessel manufacturer, we've built our reputation on the meticulous fabrication - and thorough inspection - of all of our fabricated vessels and equipment."
Serving a Wide Variety of Industries with Quality Heat Exchangers
Bendel has been a vessel manufacturing partner to many different marketplaces and industries for over 50 years. We've built an extensive knowledge base for the engineering, design, and manufacture of vessels, tanks, and equipment for just about any line of service.
Some of the industries we have serviced to reach this milestone include: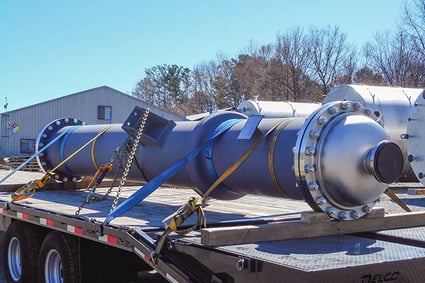 Chemical Industry Heat Exchanger
Chemical Industry – The chemical industry uses a large majority of our products and services. They use our pressure vessels and heat exchangers to convert raw materials into their products and our storage tanks to store liquids and flowable materials used in their manufacturing process.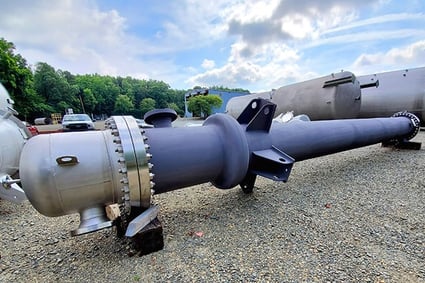 Petrochemical Industry Heat Exchanger
Petrochemical Industry – We manufacture storage tanks, pressure vessels, reactors and heat exchangers to help propel our petrochemical clients with speed to the marketplace for manufacturing their products.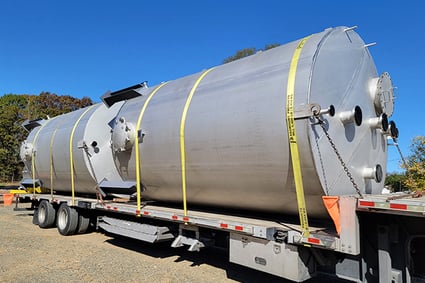 Pulp & Paper Industry Storage Tanks
Pulp & Paper Industry – Bendel engineers and manufactures a unique line of storage tanks for the pulp & paper industry that resist corrosion using nickel alloy material or stainless steel.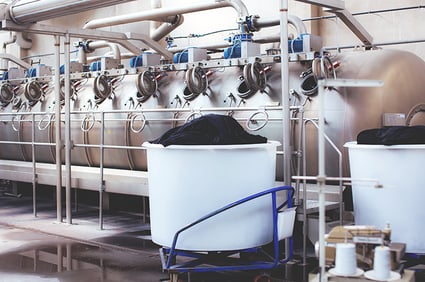 Textile Industry Process Vessel
Textile Industry – We continue to manufacture dye becks, storage tanks, mixing tanks, reactors, shell and tube heat exchangers and numerous highly-specialized vessels for the dyeing, treatment and conditioning of yarn and fabrics for specialty textile plants still operating in the U.S.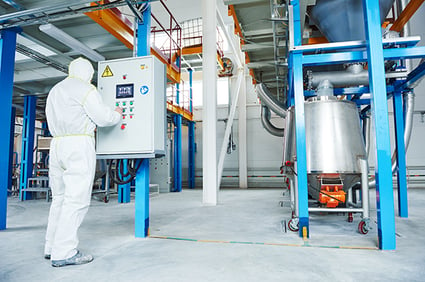 Paint Industry Mix Tank
Paint Industry – Bendel adapts and manufactures a majority of vessels for heating or cooling and that are equipped to accept mixing & blending equipment. The manufacturing process may also require vacuum service and pressure.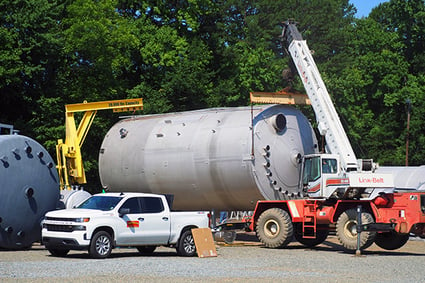 Water/Wastewater Industry Pressure Vessel
Waste/Wastewater Treatment – Bendel manufactures Stainless Steel, Carbon Steel and Nickel Alloy tanks for the storage of Industrial/Municipal water treatment chemicals. Additionally we manufacture and design ASME hydro-pneumatic vessels for potable water storage systems and pressure vessels utilized in the water treatment and filtration industry.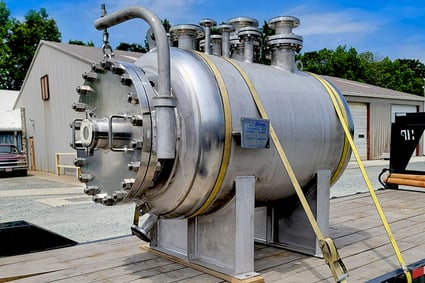 Pharmaceutical Industry Vent Seal Tank
Pharmaceutical Industry - Bendel designs, fabricates and polishes an array of custom vessels to meet the unique and stringent requirements required by the pharmaceutical industry.
As we celebrate our 250th custom-engineered heat exchanger, we will never lose sight of what has gotten us here!
To learn more about Bendel's tanks, vessels and equipment for your industry, contact Joe Schenberg at: (405) 205-4079.
Or, if you are located in Texas, Louisiana, Oklahoma, or Arkansas, please contact John Jurisich in our Gulf Coast office at (832) 981-8020.
You can also contact us via the web here